International Training

Cathy Allen and her team of experienced political entrepreneurs have traveled the world helping political parties and candidates learn about winning elections more efficiently. Her knowledge of political climates and her hands-on workshops have helped 55 worldwide political, governmental, and non-profit democracy-building agencies dramatically increase their effectiveness.

These agencies have invited The Connections Group to assess their political effectiveness, train their party officials and candidates, write legislation to establish quotas for women candidates in Muslim countries, and give a series of workshops to teach effective campaign techniques for voter contact with very little resources.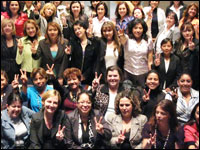 Our political strategies have also been so successful that we have repeatedly been asked to return. Our clients include the National Democratic Institute in Washington, D.C., several Mexican political parties, the U.S. State Department, and many private individuals in Algeria, Angola, Canada, Croatia, Czech Republic, Hungary, Jordan, Lebanon, Morocco, Poland, Qatar, South Africa, Spain, The Netherlands, and Yemen.
The Connections Group is available to develop training programs; train candidates, parties or other trainers; and organize and speak at conferences throughout the world. Formats include:
Daylong Trainings
Three or Four-Day Residential Trainings–covering all subjects
Specialized Grassroots or Low-Budget Trainings
Keynote Speeches
Crisis Management Seminars
Political Staff Campaign Training